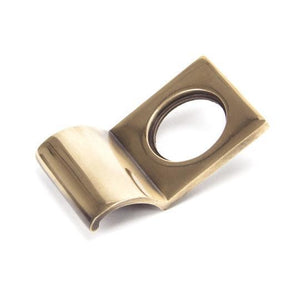 Polished Bronze Rim Cylinder Pull
Part Number: 91937
This pull should be fitted behind the cylinder of a night latch to assist in pulling the door closed.

Used on front doors to match any of our Polished Bronze door fittings and designed to finish off your door suite with a matching look.

The pulls come without screw fixings but they will use the force of the night latch to hold firmly in place. There is also a pin located on the back to help stop any movement.

Rim cylinders & night latches are available.

Suitable for internal or external use but maintenance instructions must be followed to preserve the finish of your product.

Finished in Polished Bronze - for more information see the finishes guide here.
Dimensions
Overall Size: 81mm x 50mm
Backplate Size: 53mm x 50mm
Projection: 26mm
Plate thickness: 5mm