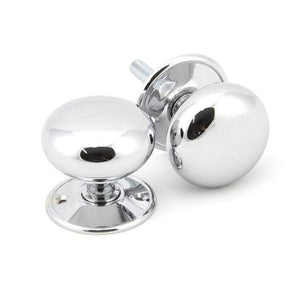 Polished Chrome 57mm Mushroom Mortice/Rim Knob Set
Part Number: 91532
Our mushroom mortice/rim knob sets are a versatile option for both contemporary and traditional doors, their smooth exterior fits any setting.
Our mushroom knob set is forged from solid brass which emphasises the high quality materials and manufacturing techniques used. A perfect design choice to use throughout your property with many other matching products available.
A highly polished finish which reflects like a mirror. A base metal of solid brass with quality chrome plating applied to it's surface which is salt tested to 480 hours.
Designed to match our mushroom cabinet knobs to create a uniform feeling throughout your home.
Can be used with a multitude of heavy duty locks, latches & thumbturns for various uses within the home.
The strength of the spring found in a heavy-duty lock/latch will ensure the knob returns to it's original position.
We recommend using a 3", 4" or 5" latch/lock.
Supplied with matching wood screws.
Dimensions
Knob Size: 57mm Dia.
Projection: 55mm
Rose Size: 57mm
Spindle Size: 8mm (Threaded)